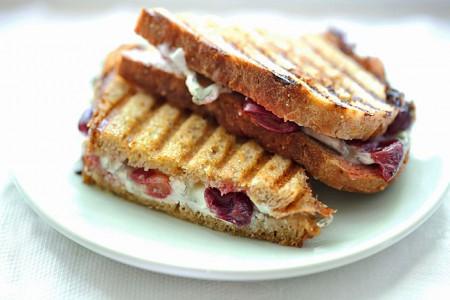 Print
Humboldt Fog
®

and Roasted Grape Panini

Sweet red grapes and savory Humboldt Fog® melted together for the ultimate panini.
Ingredients
2 Tbsp extra virgin olive oil, divided
1 lb seedless red grapes, washed and dried
8 slices rustic bread
8 oz Humboldt Fog®, sliced
Instructions
Preheat the oven to 375ºF. In a shallow roasting pan or baking sheet, drizzle the grapes (still on the vine) with 1 Tbsp EVOO. Roast until the skins of the grapes start to blister, about 20 minutes or so depending on your oven.
Remove and allow to cool slightly. While the grapes cool, preheat your panini press or a cast iron skillet (you don't need grill marks to make this delicious). Brush both sides of your bread with EVOO. Place ¼ of the Humboldt Fog® on each of 4 slices of bread. Put a handful of grapes – 10 to 12 per sandwich (you may have some roasted grapes leftover) on top of the Humboldt Fog®. Panini press or cast iron grill for 2-3 minutes or until golden brown and you see cheese oozing out the side.