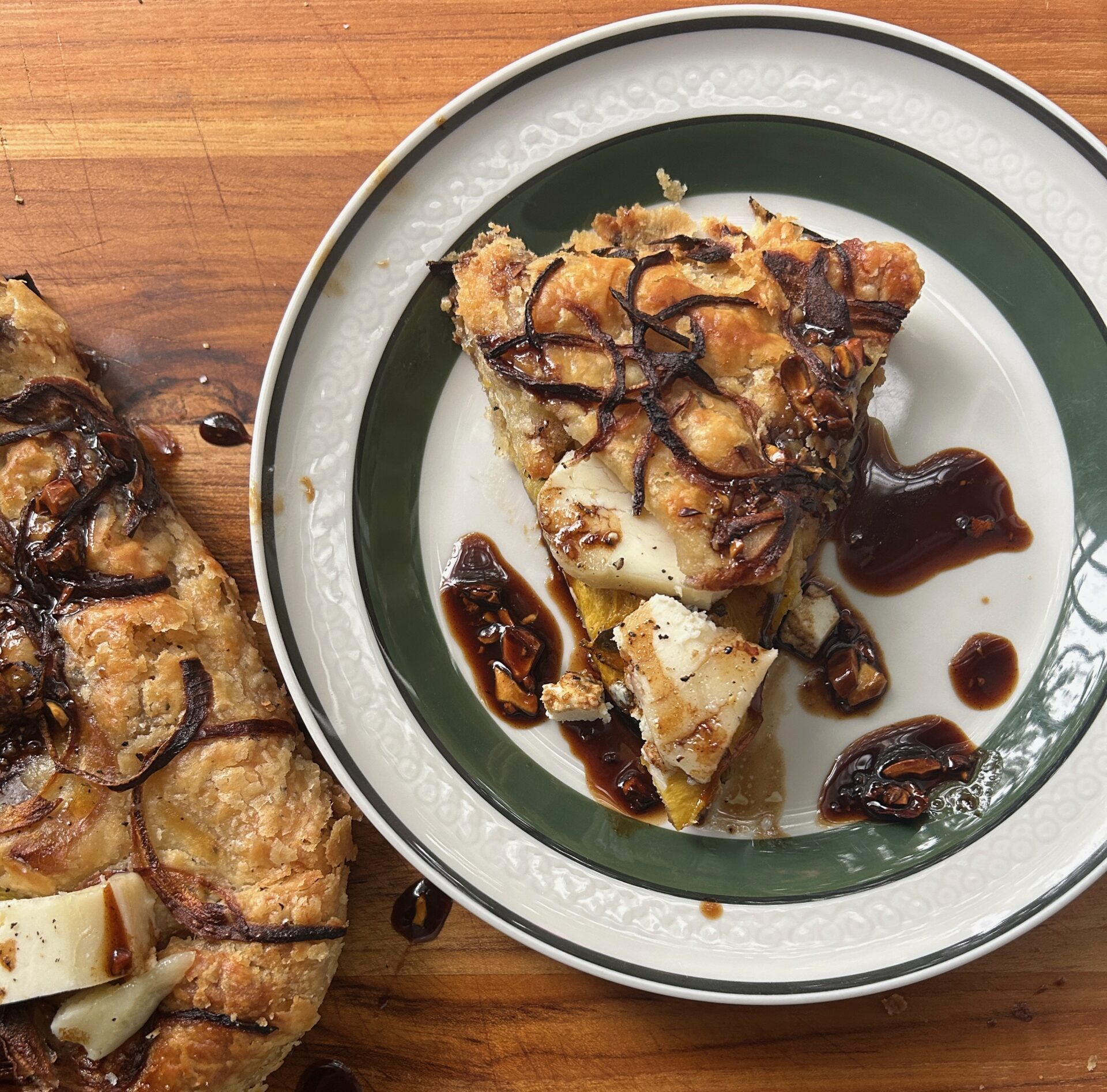 Print
Humboldt Fog Galette with Squash and Leeks
This squash and leek galette from Carla Lalli Music is sure to impress: the fall flavors of squash, leeks, and pomegranates combined with award-winning Humboldt Fog, will leave you wanting to make this recipe time and time again. This recipe is a bit long and may look intimidating, but it is really just three distinct steps that all come together at the end — and it's a vegetarian main course showstopper.
Watch the video here to see Carla bring the recipe to life!
Ingredients
For the Crust
1 1⁄3 cups (160 g) all-purpose flour, plus more for dusting the surface
1½ teaspoons (6 g) sugar
¾ teaspoon (2 g) kosher salt
12 tablespoons (6 ounces/168 g) unsalted butter, cut into ½-inch pieces and chilled
For the Filling
4 tablespoons (¼ cup) unsalted butter
3 medium leeks (about 2 pounds untrimmed), halved lengthwise, washed, and cut
into ½-inch half moons
4 garlic cloves, roughly chopped
Kosher salt; freshly ground pepper
Crushed red pepper flakes, for seasoning
For the Pomegranate Drizzle and Assembly
2 ½ ounces honey
1 ½ ounces pomegranate molasses
1 cinnamon stick, broken into a few pieces
1 lemon
Kosher salt; freshly ground pepper
¼ cup chopped toasted pistachios
1 medium acorn squash (about 1 pound)
2 tablespoons extra-virgin olive oil, plus more for drizzling
½ red onion, thinly sliced
1 egg, lightly beaten, or 2 tablespoons heavy cream, for brushing dough
4 ounces Humboldt Fog, rind removed and sliced ¼-inch thick
Instructions
This recipe is a bit long and may look intimidating, but it is really just three distinct
steps that all come together at the end—and it's a vegetarian main course
showstopper. First, make the dough and chill it (you can even do this days or weeks
ahead). Then you make a simple leek filling and a pomegranate-honey glaze, both
of which can be stored for a couple days ahead. Finally, a rustic galette assembly
and baking. Make sure to hang on to any leftover pomegranate sauce; it's delicious
with Humboldt Fog as a snack.
Make the Dough
In a small bowl, put some ice cubes in about ¼ cup (60 ml) water. In a medium bowl,
toss together flour, sugar, and salt to combine. Add the butter and toss to coat, then
dump the mixture onto a clean work surface. Use a rolling pin to roll butter into flour
until butter is flattened and slightly softened, and has formed long, flexible pieces.
This will take a little doing. Use a bench scraper or metal spatula to loosen flour from
the surface and to clean off rolling pin as needed.
Use bench scraper to corral mixture into a loose pile, then drizzle 3 tablespoons (45
ml) ice water (without ice cubes) over. Using the bench scraper and your free hand,
toss mixture until the water is evenly distributed. The mixture will resemble
dampened clumps of flour with lots of loose bits still in the mix, and this is exactly as
it should be. Gather mixture into a 6-inch-wide rectangle with one short end toward
you, then dust with flour. Lightly flour a rolling pin and roll out dough to about ¼ inch
thick. You'll need to periodically scrape the rolling pin clean, letting scraps fall onto
the dough as you go. The middle will be loosely holding together but the edges will
look very dry and shaggy.
Using the bench scraper, fold the top third over the center, then fold the bottom third
up and over, as you would fold a letter. Rotate dough 90 degrees and roll out again
(flouring and scraping as before). Fold dough into thirds again, rotate 90 degrees,
and roll out a third time. At this point, dough should be somewhat homogenous and
creamy looking with some dry bits around edges. Squeeze a bit in your palm; it
should loosely hold together. If not, repeat the rolling and folding a fourth time, then
check again. Fold dough in thirds and press it into a disc about 1 inch thick and 9
inches across. Wrap tightly; chill 30 minutes or up to 2 days.
Do Ahead: Dough can be frozen for up to 3 months; after wrapping in plastic,
place in a freezer bag with a resealable top.
For the Filling
Heat the butter in a 2-quart saucepan over medium heat; when the butter is
foaming add the leeks and garlic. Season with salt, pepper, and a pinch of crushed
red pepper flakes. Stir to coat, then cover the pot and cook until the leeks are vibrant
in color and softened and plenty of liquid has accumulated in the pot, 2 minutes. Stir
the leeks, then lower the heat to medium-low, cover the pot, and cook, stirring
occasionally, until the leeks are very silky and tender with just a smidge of bite left,
10 to 12 minutes. Uncover pot and simmer rapidly, stirring frequently, until liquid has
evaporated and leeks are starting to brown, 4 to 6 minutes more. Scrape leeks into a
small bowl or container and let cool.
Do Ahead: Leek mixture can be made up to 2 days ahead. Let cool
completely, then cover and chill. Bring to room temperature before
assembling the tart.
For the Pomegranate Drizzle and Assembly
Combine honey, molasses, and cinnamon in a small saucepan over medium-low to
medium heat. Using a vegetable peeler, remove two wide strips of lemon zest
(avoiding pith) from the lemon. Add the zest to the honey mixture, season with salt
and pepper, and pour in ½ cup water. Bring to a simmer over medium heat, then
lower the heat and simmer until liquid has reduced to a light glaze, 6 to 8 minutes.
Fish out the cinnamon and lemon zest. Squeeze in about a tablespoon of lemon
juice; taste sauce and season with salt and pepper, if desired. Stir the pistachios into
the glaze and keep warm.
Do Ahead: Glaze, without pistachios, can be made 3 days ahead; store
airtight at room temperature. Stir in pistachios before serving.
Using a vegetable peeler, remove squash skin from the highest points of the ridges
(the peaks, not the valleys). Not only is it way too annoying to try to peel the skin
where the V narrows, this peeling technique will create a striped effect. Cut squash
in half through the stem, then cut each half crosswise into ½-inch slices. Transfer to
a medium bowl and toss with 2 tablespoons oil. Season with salt and pepper and
toss again to coat.
Preheat oven to 375°F. Line a rimmed baking sheet with parchment paper.
Lightly coat work surface with flour, then place dough on the surface and dust with a
little more flour. Roll out dough to a round about 1⁄8 inch thick and 12 to 14 inches
across. Gently transfer dough to the prepared baking sheet.
Scrape leek mixture onto center of dough, then use a spatula to spread it out,
leaving a 2-inch border. Shingle squash slices over leeks in any pattern that pleases
you; reserve bowl from squash. Fold and pleat the exposed dough over the filling,
working your way around the edge and leaving center exposed. Add onion slices to
squash bowl, season with salt, and toss to coat in oil. Brush dough with egg, then
scatter red onions onto exposed edge of dough (it's okay if the edges of the onion
extend onto squash area.
Bake the galette until the squash is tender, the onions are caramelized, and the
crust is walnut brown, 60 to 75 minutes. Remove from oven and immediately
arrange Humboldt Fog slices over. Let sit until cheese has softened and is creamy at
edges, 15 minutes. Cut into wedges and spoon pomegranate drizzle over (you might
not need all of it).