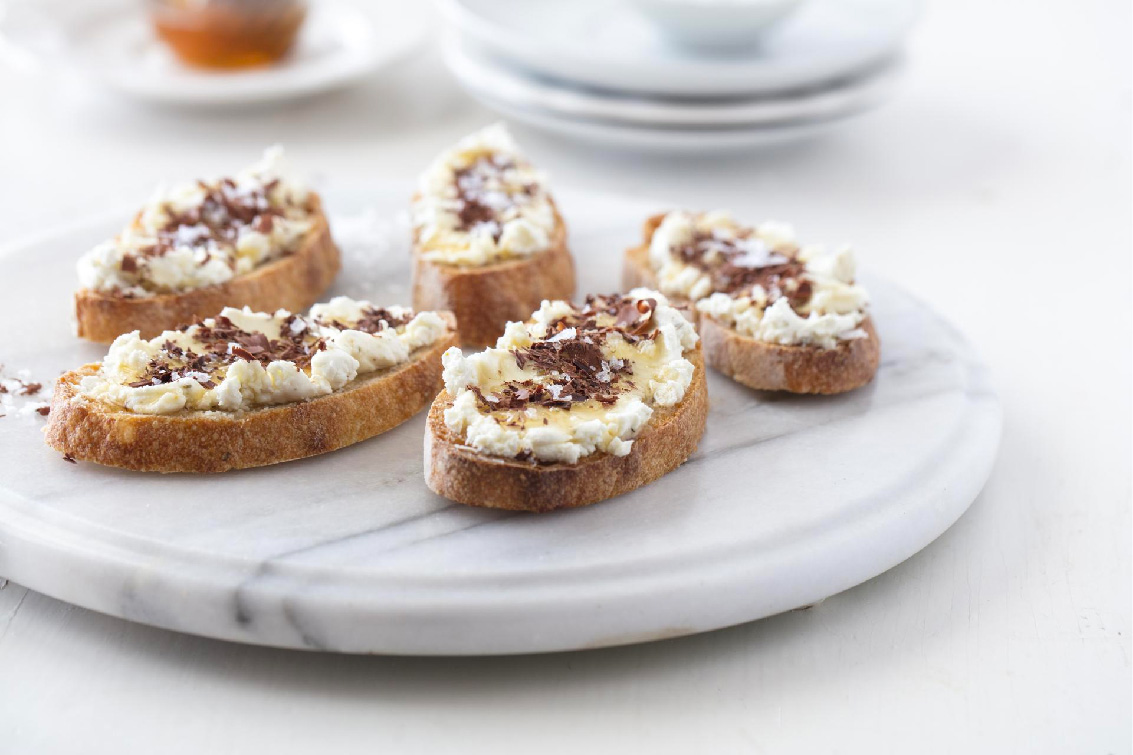 Print
Purple Haze
®

and Chocolate Crostini

Crunchy toasted baguette slices with tangy fresh goat cheese and melty chocolate chunks, honey, and salt! These make unusual but sensational hors d'oeuvres — or a decadent snack. The combo sounds sophisticated, but you won't be able to keep your kids away from them! Purple Haze® is my favorite choice here, but you can also use Herbs de Humboldt® or Ms. Natural®. Crostini are prepped in advance and then simply reheated before serving. You'll get the best flavor balance with a dark chocolate with 64% to 66% percent cacao — look for the percentage on the chocolate bar label. Chocolate chips are usually too sweet, so you will just have to roll up your sleeves and chop a little chocolate yourself!

Credits: Recipe by Alice Medrich for Cypress Grove.
Ingredients
1 disk Purple Haze® (4 oz)
16 slices of baguette, cut at a slight angle about ½-inch thick
1 oz (28 grams) 64%-66% dark chocolate (not chocolate chips) chopped into tiny pieces — the biggest of which should be about the size of chocolate chips
About 1 Tbs honey
Flakey sea salt
Instructions
Toast baguette slices in a toaster oven until the edges are golden and crunchy. (Or toast them on a baking sheet in a regular oven preheated to 350° F.) Set aside to cool.
Top each baguette piece generously with cheese. Sprinkle each with chocolate. Set aside until needed. Just before serving, return the crostini to a preheated 350° toaster oven (or regular oven) just until they are hot and the chocolate is melted, 3 to 5 minutes. Drizzle crostini with a little honey and top with a few flakes of salt. Serve immediately.