Bermuda Triangle
®
Get lost in the flavor of Bermuda Triangle®
Tart and tangy with intense pepper notes, Bermuda Triangle® is the perfect goat cheese for any rind lover — and thanks to its shape, Bermuda Triangle® ripens faster than our other soft-ripened cheeses, developing an umami brothiness with incredible depth of flavor. When sliced thinly with a wire, Bermuda Triangle® creates a stunning and distinctive presentation that brings the "wow" factor to any table. No compass required.
Perfect Pairings
Serve it
Serve with spicy nuts and candied fruit as a standout addition to a cheeseboard.
Perfect Pairings
Serve it
Serve atop a bed of arugula with pears and candied nuts.
Ripe
Beer
Pairings
Pale Ale
Mature
Beer
Pairings
Stout
Young
Wine
Pairings
Demi-Sec Sparkling Wine, Sauvignon Blanc
Ripe
Wine
Pairings
Pinot Noir, Rosé
Mature
Wine
Pairings
Cabernet Sauvignon, Rosé, Zinfandel
Don't just take our word for it
Awards & Recognition
First Place
First Place, California State Fair 2018
First Place, American Cheese Society 2013, 2014, 2016
Third Place
Third Place, American Cheese Society 2017
sofi™ Awards, Perishable Food Service Product 2013
sofi™ Awards Finalist 2016
View All Cypress Grove Awards
How do I store Bermuda Triangle?

To optimize the quality of Bermuda Triangle, keep cheese cold (32°–40°F) and wrapped in waxed paper. Re-wrapping your cheese in wax or parchment paper will allow the cheese to breathe as it continues to ripen.

Remove Bermuda Triangle from the refrigerator at least one hour before serving.

Bermuda Triangle has a microbial (non-animal) rennet type and an optimal shelf life of 91 days uncut.

What is the shelf life?

91 days uncut

What does "cut and wrap" mean?

Because many of our cheeses are produced in large wheels, retailers cut and wrap the cheeses into smaller wedges. You'll find our soft-ripened cheeses and aged cheeses sold this way, but if you're searching for a whole wheel, ask your cheesemonger — they can usually order one for you!

Pasteurized cultured goat milk, salt, enzymes, vegetable ash

* The Percent Daily Values are based on a 2,000 calorie diet, so your values may change depending on your calorie needs. The values here may not be 100% accurate because the recipes have not been professionally evaluated nor have they been evaluated by the U.S. FDA.
You Might be Interested in...
Related Products
Humboldt Fog
®
Conceived in a dream by founder Mary Keehn, this masterpiece paved the way for soft-ripened goat cheese in America.
View Details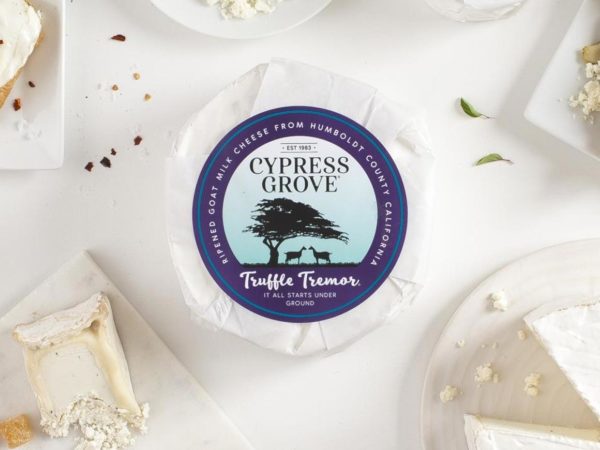 Truffle Tremor
®
Elegant and pungent truffles collide with the velvety perfection of soft-ripened goat cheese.
View Details
Humboldt Fog
®

Dill Remix
Humboldt Fog with dill and hand-harvested dill pollen — a surprising depth of flavor with a tart and bright finish.
View Details